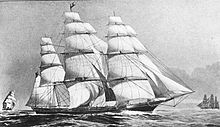 The Flying Cloud was a big and beautiful clipper ship. She was 235 feet long and was built in 1851. She accomplished some fantastic achievements during her 23 year lifespan. While she was being built for Enoch Train and Company, she was sold to Grimnell, Minitrun and Company for 90,000 dollars.
Her maiden voyage was one for the ages to remember. Captain Josiah P. Creesy held her for 5 trips.The beautiful, sleek clipper set a world record for the shortest voyage from New York to San Francisco: 89 days, 21 hours and around the ballistic Cape Horn. However, this was at the cost of her main, fore and mizzen top-gallant masts. In 1854, she fought a blistering duel with a clipper called Andrew Jackson and won, breaking her own sailing record: 89 days and 8 hours. The record has since been broken in 1989, but her achievement will live on forever. in 1853, one year before she broke her own record she fought a race with the clipper Hornet and lost by just 45 minutes, although each ship took 106 days apiece to reach San Francisco. Creesy needed a rest in 1856 and so he stayed behind on this run. 
1856 was her final run to California: under Captain William H. Reynard, she made the run in a decent 113 days,losing sails and springing her bowsprit, having to put into Rio for repairs. Reynard set her fastest days run on this trip, 402 miles. Following this trip, Captain Reynard was succeeded by Captain Thomas Windsor who took her for 5 years between New York and Liverpool. Her best run was 17 days, 3 hours. In 1862, she was sold to the James Baine's Black Ball Line and McKay and Son, co owners, and was put into service sailing to New Zealand Australia. She made a fine run in in 1862 from Liverpool to Queensland in 87 days. In 1872, she was sold to a lumber company: Sam Edwards And Co. In 1874, on June 19th, she went ashore, broke her back and was burnt for her copper fastenings the following June. Her last Captain was locally called "Wild Goose".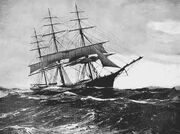 Timeline of 6 San Francisco Runs
Edit
1. 89 days, 21 hours, from New York in 1851
2.115 days, from New york in 1852
3. 105 days, from New York in 1853
4. 89 days, 8 hours, from new York in 1854
5. 108 days, from new York in 1855
6. 113 days, from New York in 1856