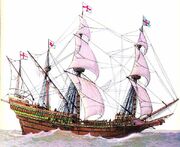 The Queen's Ships.
1 The Ark Royal
She was built in 1587 for Sir Walter Raleigh and launched on June 12th. She was sold to the Queen for 5,000 farrthings, which was taken off of Ralegh's debt. She was known simply as the Ark for a while. An 800 ton galleon, the Ark was the flagship of the fleet against the armada and the flagship of 2 more expeditions to Cadiz. She was called the Anne Royal after Queen Elizabeth died. She lay at dock from 1625 on and sank in 1636.
2. The Elizabeth Bonaventure
This one was quite old when the Armada arrived. She dated back to 1561. She was luckily rebuilt in 1581, as she was already 20 at the time. She saw a great deal of service. Particapating as Drake's Indies voyage and his raid of Cadiz, she played a key role vs. the Armada. In 1590 she was commanded by John Hawkins in a voyage to Pourtugal. She also particapated in the last voyage of both Drake and Hawkins in 1595-1596. In 1597 she went with Essex on an island voyage. She was broken up in 1610 at the old age of 49.